Kiteboarding Dominican Republic – 1# Kite Club Cabarete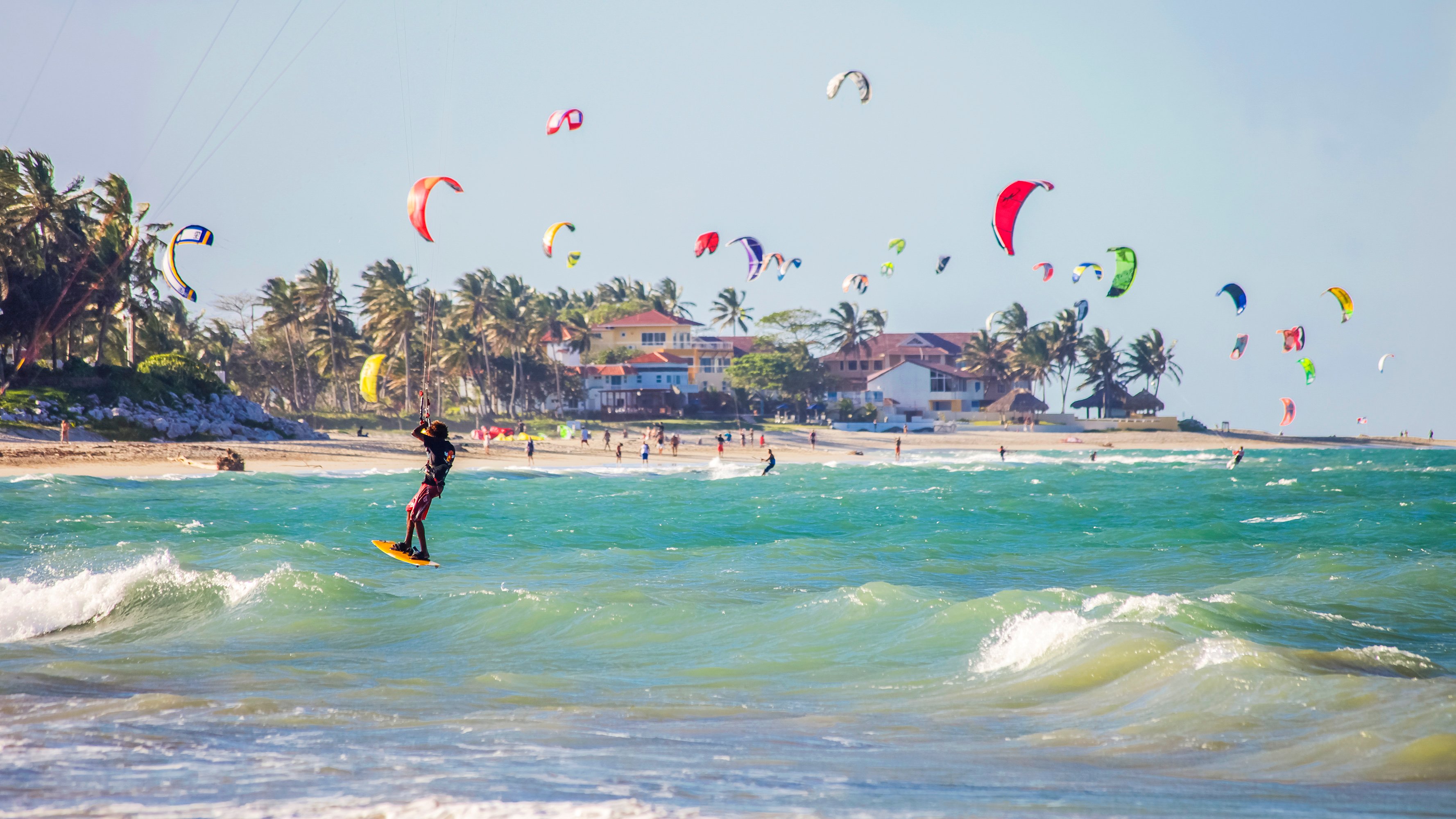 Cabarete Kiteboarding Club: Your One-Stop Destination for Kitesurfing
Learn, Rent, and Tour with Cabarete Kiteboarding Club
Cabarete Kiteboarding Club offers a range of services to cater to both first-time kitesurfers and seasoned pros. Their IKO-certified instructors have years of experience in kiting in Cabarete waters, ensuring that you receive top-quality training, regardless of your skill level.
From basic lessons to advanced teaching techniques, the Club offers everything you need to get started or to improve your kitesurfing skills. Their rental packages include a wide range of new equipment from top brands like Slingshot, Naish, Mystic, Airush, and Brunotti, as well as secondhand gear for those on a budget.
Their rental packages also include wetsuits, shorts, handles, and lines, as well as safety gear like helmets and impact vests, ensuring that you have a safe and enjoyable kitesurfing experience.
ADDRESS & CONTACT ADDRESS Cabarete 57000 GPS 19.7649114, -70.4249331291 TELEPHONE +18095719748
Cabarete Kiteboarding Club: A Thrilling Adventure Awaits
Discover the exhilarating world of kiteboarding at the Cabarete Kiteboarding Club, located in the beautiful Dominican Republic. In this article, we'll explore the club's offerings, including courses, equipment rentals, events, and facilities, as well as the incredible kiteboarding conditions that have made Cabarete a sought-after destination for enthusiasts worldwide.
Kiteboarding Conditions in Cabarete
Cabarete is renowned for its consistent trade winds and warm water, making it an ideal spot for kiteboarding. The wind conditions are generally strongest in the afternoon, providing perfect opportunities for both beginners and experienced riders to hit the water. The famous Kite Beach, located just minutes from the Cabarete Kiteboarding Club, offers a variety of conditions suited to all skill levels.
Courses and Instruction at the Cabarete Kiteboarding Club
The Cabarete Kiteboarding Club offers a range of kiteboarding courses for all experience levels, from beginners to advanced riders. These courses, led by certified and experienced instructors, focus on safety, technique, and practical skills. With a commitment to providing personalized instruction, the club ensures that students can progress quickly and confidently on their kiteboarding journey.
Equipment Rentals and Gear
In addition to courses, the Cabarete Kiteboarding Club provides equipment rentals, making it easy for visitors to access top-quality gear without the hassle of traveling with their own equipment. The club's rental fleet includes the latest kiteboarding equipment from leading brands, ensuring that riders have access to the best gear available.
Events and Competitions at the Cabarete Kiteboarding Club
The Cabarete Kiteboarding Club regularly hosts and participates in local and international kiteboarding events and competitions. These events showcase the talent of local and visiting riders while promoting the sport of kiteboarding and the beautiful location of Cabarete. Competitions also provide an opportunity for club members to challenge themselves and connect with fellow kiteboarding enthusiasts.
Club Facilities and Amenities
The Cabarete Kiteboarding Club offers a range of facilities to make members and visitors feel at home. These include a clubhouse with comfortable seating areas, a gear storage room, and changing facilities. The club's beachfront location ensures easy access to the water and stunning views of the ocean, making it an ideal spot to relax and socialize after a day of kiteboarding.
In conclusion, the Cabarete Kiteboarding Club provides an exceptional experience for kiteboarding enthusiasts. With its excellent conditions, comprehensive courses, top-quality equipment rentals, and welcoming community, the club has established itself as a premier destination for kiteboarders of all skill levels. If you're ready to embark on an unforgettable adventure, look no further than the Cabarete Kiteboarding Club.
Adventure with Downwinder Tours
Cabarete Kiteboarding Club offers downwinder tours with an instructor and guide, taking you on a thrilling adventure while exploring new destinations off the general tourist route. The tours are tailored to different skill levels, including beginners, making it perfect for anyone looking for a fun and exciting way to experience kitesurfing.
Membership Perks and Extended Stays
As a registered member with Cabarete Kiteboarding Club, you can enjoy 24/7 customer service and special discounts on packages for stays longer than 30 days. This makes it an excellent option for those planning extended visits to the area, providing month-round savings of up to 25% compared to booking single-day sessions.
Safe and Flexible Services
Cabarete Kiteboarding Club emphasizes safety protocols while keeping things flexible, allowing customers to express themselves according to their individual levels and possibilities. They adapt to different scenarios according to weekly group sizes and schedules, following official operative guidelines to provide high-quality standards and customer satisfaction policies. This assures that customers remain within safe boundaries, regardless of the weather conditions, making it the right choice for beginners on a budget.
Whether you're brand new to the sport or a seasoned pro, Cabarete Kiteboarding Club is the ideal place to enjoy kitesurfing in a friendly atmosphere surrounded by local pro riders. With proper lighting conditions, top-quality equipment, and a commitment to safety, Cabarete Kiteboarding Club is a one-stop destination for kitesurfing in the Dominican North Coast near Puerto Plata.
What is Kiteboarding and How Does it Work?
Kiteboarding is a water sport that has gained popularity in the recent years. It is a combination of surfing and snowboarding, but with the help of kites.
Kitesurfing is more popular than kiteboarding, because it's more challenging and intense. Kitesurfing is also called kite flying or power kiting. The rider uses a harness to attach themselves to the board, which helps them stay on top of their board while they are being pulled by the wind and waves.
Kitesurfers use different techniques to control their boards: they can use their arms, body weight or foot straps to control their direction.
The 5 Best Spots in Cabarete for Kiting
Kiting is a sport that is relatively new to the Dominican Republic, but it has quickly become one of the most popular sports in Cabarete.
There are 5 key spots in Cabarete that are perfect for kiting and they all provide something different for kiteboarders.
1) Kite Beach: This is the only beach in Cabarete with a designated area for kiting. It is also home to the largest kite school in the Dominican Republic, so it's perfect if you're just starting out!
2) Playa Encuentro: This beach has some of the best waves for surfing and windsurfing, but it also has an area for kitesurfing.
3) Playa Grande: If you want to see some amazing views from your board, then this spot will be perfect! There are no waves here, so it's ideal if you're looking to do some freestyle tricks.
4
Conclusion: So you want to learn how to ride a board? Take your skills up a level with these 5 tips.
Riding a skateboard is a lot of fun and can be very rewarding. It's a great way to spend your time and get exercise. But, there are some things you need to know before you start riding.
This article will give you five tips for riding a skateboard that will help you take your skills up a level.
1) Know Your Board: The first thing you need to do is make sure that the board is the right size and weight for you. You should also know what kind of board it is: longboard, cruiser, or something else. Knowing these kinds of details will make it easier for you to use the right techniques when riding.
2) Have Some Basic Skills: If you want to improve your skills on the board, start by practicing some basic skills like balancing and turning. These are the foundation for more advanced tricks later on in your skating career, so don't skip them!
3) Take Lessons: Taking lessons from
Cabarete Kite Point Kiteboarding School, KiteClub / School Dominican Republic Located on the north shore of the caribbean island paradise-
Introduction: Why Kiteboarding is the Perfect Sport for Cabarete
Kiteboarding is the perfect sport for Cabarete, Dominican Republic. It is a great way to enjoy one of the most beautiful beaches in the world. Cabarete has some of the best kiteboarding conditions in the world and has been named as one of the best places to kiteboard.
There are many reasons why kiteboarding is a great sport for Cabarete. One of them is that it allows you to explore different parts of Cabarete, Dominican Republic while having fun at the same time!